Juno Books

Lykeion Books
Nominated for
Urban Fantasy Land's Readers' Choice Awards
"From the first page of
Seaborn
, you are immersed. Chris Howard navigates a wild ride through a brilliantly edgy and richly atmospheric alter-world. Here is a fresh, formidable spin on sf/f and Howard is a talent to watch out for.
Seaborn
will leave you spellbound."
—National Book Awards Finalist Adele Griffin
Seaborn
is a mix of
The Little Mermaid
story tossed with a limb or two of zombies and entranced with a crimson droplet of 'I see dead people'. It is a refreshing step away from the cliché vampire or werewolf book; after all who really writes about things that go bump in the sea? In a tale of two worlds colliding, humans and the Seaborn battle for the control of Poseidon's regime of the ocean, while bits of environmental controversy ooze through the pages like a hidden agenda.
—Angela Longstreet, BookFetish
"Dark and atmospheric,
Seaborn
is an imaginative new entry in the world of paranormal fiction." —
Liz Maverick, author of Wired
"Seaborn is no regular fantasy. It is an epic, created with a linguist's, a sociologist's, and a poet's touch....Chris Howard has created a rich complicated world....We are obviously in the hands of a great writer..." —
Blogcritics
"Chris Howard is to be applauded for Seaborn's unique (or at least rare) in urban fantasy setting of the sea....So this will suit readers who've had enough of vampires, shifters, witches, psychics, fae and whatnot. Originality is the key selling point here, as is Mr Howard's startling array of talents" —
Tez Says
"This is a must-read, must-have and worshipped. This mythology junkie is more than satisfied and begs people to buy more than one copy as soon as possible. If I am correct, after several generations a first issue of this will be quite valuable." —
Temple Library Reviews
"Chris Howard is someone I will be paying close attention to from this day forward. As a debut novel Seaborn succeeds where many others in the same class have not. It puts together a fascinating new world (within our own), drawing from Greek mythology and developing that into its own unique fantasy creation. —
Fantasy&SciFi Lovin' Review
"
Seaborn
is the first novel for Chris Howard, and what an amazing tale it is. From the underwater society to the surfacers on land, the detailed account of preparation and battle is vividly drawn....This is a book I'd recommend to fantasy readers, but horror fans should enjoy Aleximor and Corina's tale as well." —
Darque Reviews
"A new world is born in this fantasy work of art. The sea has alot on offer in this fresh and unique debut book by Chris Howard. With some darkness, a lot of depth and some fantastic characters this is a must read for any fantasy fans who like the sea aspect or who just want to try something a little different." (A PNR Reviewer Recommended Read) —
ParanormalRomance.org
"I am not sure how Juno got their hands on this novel, but they landed quite the gold mine at least for urban fantasy readers. I may sound extreme, but here goes: This is a must-read, must-have and worshipped. This mythology junkie is more than satisfied and begs people to buy more than one copy as soon as possible. If I am correct, after several generations a first issue of this will be quite valuable." —
UrbanFantasyLand Reviews
"As epic fantasy
Seaborn
is imaginative and flush with mythological detail. The ocean dwelling Seaborn culture is fascinating....a fresh and entertaining read..." —
SciFiGuy
"In Seaborn, Chris Howard explores a new dimension of urban fantasy. Rather than keeping to the city as the genre would imply, Howard delves into an undersea world....[and takes] readers in a new direction. His passages are densely packed with detail and each chapter reads smoothly. His characters appeal to all readers, whether they are familiar with the genre or not....I would strongly suggest that fantasy lovers who are tired of vampire novels check this book out." —
Flamingnet
"
Seaborn
takes the reader on a non-stop above and below the sea adventure. It follows many different story lines that come together at all the right times. The fast-paced chapters will have you up all night not wanting to miss what is going happen next...You won't want to put this book down." —
DCL
"A fascinating read." (four stars) —
RTimes Book Reviews
All Life began in the ocean.
The tides, the salt, the rolling waves are in our souls.
And the sea will always have the power to call us home.

There is a world deep under the sea, a kingdom that has endured thousands of years without the modern world knowing it exists. Those who dwell there are Thalassogenêis: Seaborn

Kassandra is the Seaborn king's granddaughter--the one he wishes he'd killed when he'd had the chance. She comes from the sea, but she has spent her whole life in exile on the surface, learning to control strange and frightening powers she barely understands. But now she's ready to declare war on the murderous king.

Corina Lairsey is a scuba-divi ng Californian who has freed herself from a controlling relationship...andfinds herself in another. Only this time, Aleximor, an ancient Seaborn sorcerer, is literally inside her head and wearing her body. Corina must strive for control of her self, fighting against time as Aleximor trades pieces of her life away in exchange for power over the path between the worlds of the living and the dead.

Aleximor wants revenge for his 400-year imprisonment and his dangerous machinations threaten to destroy both young women and the world of the Seaborn.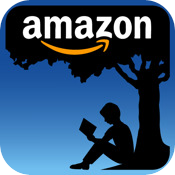 Amazon.com
|
Amazon.uk
|
Amazon.de
|
Amazon.fr